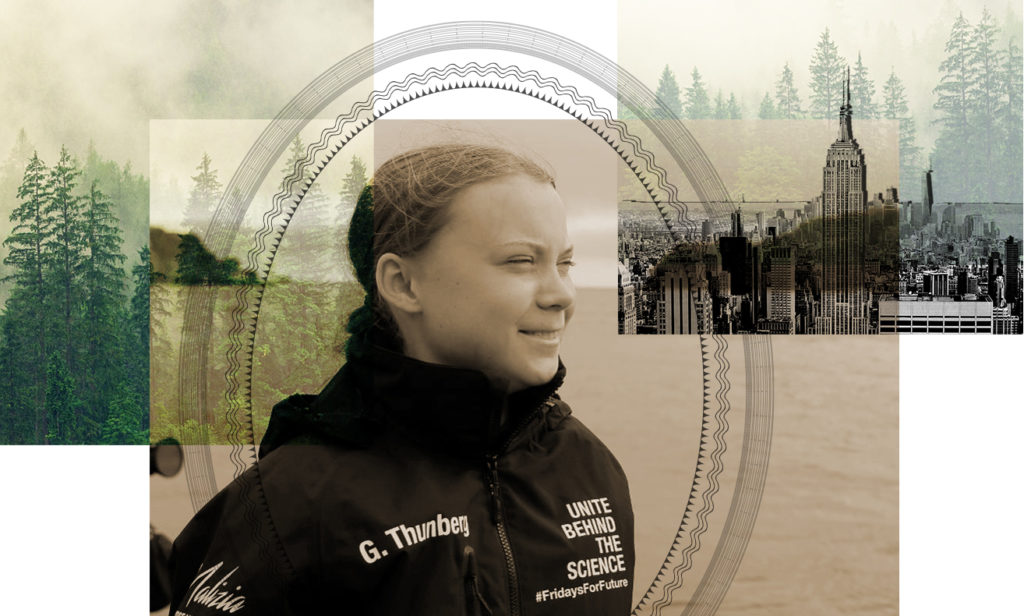 "Act Like Your House is on Fire"
Greta Thunberg, 16, is perhaps the most prominent voice in the climate and environment crisis movement today. She started the Fridays for Future school-strike in 2018, leaving class every Friday to sit in front of the Swedish Parliament, striking for climate action:
"If you adults don't give a damn about my future, I won't either."

– Greta Thunberg, Great Big Story; April 15, 2019
"This September, millions of us will walk out of our workplaces and homes to join young climate strikers on the streets and demand an end to the age of fossil fuels. Our house is on fire — let's act like it. We demand climate justice for everyone" …
The message gained traction. She has since spoken at the National Assembly in Paris, the UN Parliament, the World Economic Forum, the 24th UN Climate Change Conference. She has also had the opportunity to meet the Pope and she recently testified in front of the American Congress. In her speeches, she highlights the importance of the younger generation; those whose futures are directly threatened by global climate change, and their responsibility to motivate the hesitant adults into action.
Greta is a bold and unrelenting critic of the 'business as usual' way of politics regarding climate change. She attributes her focus and dedication to the climate cause to her Aspberger's (a form of autism): "everyone else, they saw the same thing…I didn't understand why their lives weren't turned upside down like mine was… of course, that cannot just be a coincidence" (The Intercept, The Right to a Future; Sept 10, 2019)
"I think she's really a prophetic voice. She brought the existential urgency of the crisis to the heart of power".

– Naomi Klein, Democracy Now interview, September 17th
Greta is currently in North America, having arrived in New York on a carbon-neutral sailboat. She plans to make her way to Chile, to speak at the 25th UN Climate Conference, visiting with Indigenous groups of the Amazon Basin along the way and seeing the impacts of climate change and the forest fires on the Amazon rainforest along the way.
Greta Isn't Asking for Praise … Just Get Busy!
Given the crisis situation and all the issues facing us today, it's easy to question whether individuals can truly make a difference. But look how Greta's individual personal commitment has captured the attention of the world … she's even been nominated for a Nobel Peace Prize!
Her message is clear: Act Now … Activism Works! No one is too small to make a difference.
Personal change is just as important as broader system change. After all, movements are made out of individuals and we each have a responsibility to inspire those around us to respond appropriately to the crisis and to make changes in our lives.
"See You On the Streets"
So what are you waiting for? Join Greta on September 20 and 27th for the Global Climate Strike to stand up for your right to a future. We want you to act like your house is on fire.
Upcoming Global Fridays For Future Climate Strikes:
Friday, Sept 20, 2019: Global Student Strike –> Click here for info!
Friday, Sept 27, 2019: Global General Strike
Act Local –> Click here for local (Toronto) Climate Strike Events!
Videos:
https://www.youtube.com/watch?v=icKlNgLuqzU – Great Thunberg testimony in front of Congress
https://www.youtube.com/watch?v=So668l3o6ks – Amnesty International/Greta Thunberg
https://www.youtube.com/watch?v=Dgi30Wy_V74– Greta on Democracy Now
https://www.youtube.com/watch?v=v5_dxzV9MTk&t=5808s– Greta Thunberg at 'The Right to a Future' talk with Naomi Klein
References
Greta Thunberg Instagram, FridaysforFuture Instagram
NPR: https://www.npr.org/2019/08/28/754818342/teen-climate-activist-greta-thunberg-arrives-in-new-york-after-sailing-the-atlan