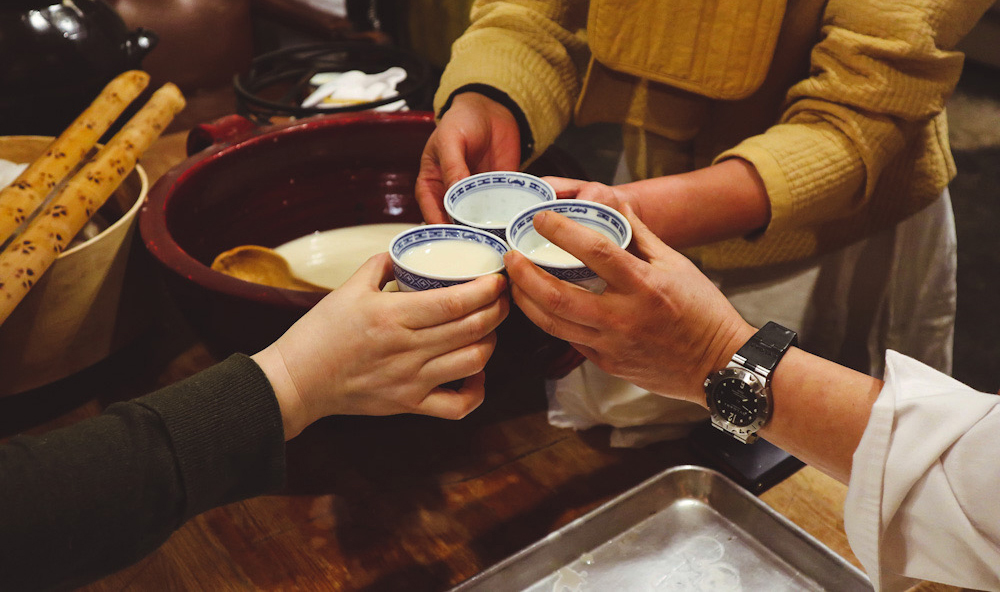 An account of Restoration Cafe's Slow Food Korean Dinner featuring traditional Korean Sul drink & "slow coffee" roasted and brewed fresh that night …
Korean Food in the Context of Slow Food
Slow coffee always closes out the evening around our cafe, but here is how this evening began … "Korean food is regarded as a genuine slow food". Chef SungSook Han kicked off the evening with a little food for thought.
Fermented foods are central to the Korean diet, she explained. The regional and seasonal ingredients are fermented and enjoyed as side dishes like Kimchi and Jeotgal (fermented seafood) or used as sauces like soy sauce, soybean paste and chili paste, adding the deep flavor and complexities to the dishes and also providing high level of probiotics. The dinner we shared that evening started weeks ago, when Sungsook paid visits to some local Korean farms to source in-season produce for her ferments. —Not an easy task during February in Southern Ontario.
The natural conditions of the Korean peninsula facing the sea on three sides and having four distinctive seasons provide Koreans with a large variety of ingredients. People harvest seasonal wild herbs and plants from the mountains and hills (some of which, we enjoyed in our bibimbap). The culinary tradition of Korea evolved around the seasons, says Sungsook, and reflected the geographical and climatic characteristics of each region. Koreans respected the diversity and culinary traditions that they inherited from the ancestors and benefited from the biodiversity that the land had offered.
Korean Rice Brew 'Sul'
The highlight of the evening came from a special guest; a female brew-master from Korea who did not speak any English, but brought with her a secret recipe for the Korean "king's alcohol". She prepared a special batch herself here in Toronto and demonstrated the filtration process of the traditional Korean rice wine 'Sul', which uses a mother yeast called 'Nuruk,' made by fermenting rice and malt. The traditional Korean Sul is made of nuruk (naturally fermented grain yeast), rice, and water without any additive or supplement and has gentle aromas redolent of apples, grapes, strawberries, peaches, plums and lotuses. Proper techniques, adequate time, and multiple fermentations result in gentle and aromatic Sul that is rich and smooth on the palate.
The Sul we enjoyed this evening is called "Dongdongju" and is categorized as 'Takju,' which is cloudy milky rice wine in contrast to 'Cheongju' (clear rice wine). This Dongdongju is made from fermenting the mash of steamed sweet rice after washing 500 times. It is aged in 'Oggi' clay pot for 21 days and went through a single fermentation. The name Dongdongju refers to the fermented rice floating on top of Sul. What more can we say? The experience felt somehow historic and after 3 small cups of Dongdongju everyone was speaking the same language.
Slow Coffee in the Context of Slow Food
The evening closed out with slow coffee, which was freshly roasted, and brewed that evening by trained Merchants brewer, Kat Polyutova. We chose to serve our signature fresh-roasted Climate Change Coffee blend (containing our flagship restorative Cafe Solar® green coffee). The coffee beans were ground fresh right before brewing, and the brew was filtered by hand through organic cotton. The sweet syrupy flavour of caramel was the best possible note to close out the evening.
The Food
The Brews
Thank You to Guests Our Event Partners
Special thanks to those who supported by participating in this unique food experience. Cheers!
This event was hosted in partnership with Slow Food Toronto, representing for Slow Food International, and Hansomm Chef Inc.