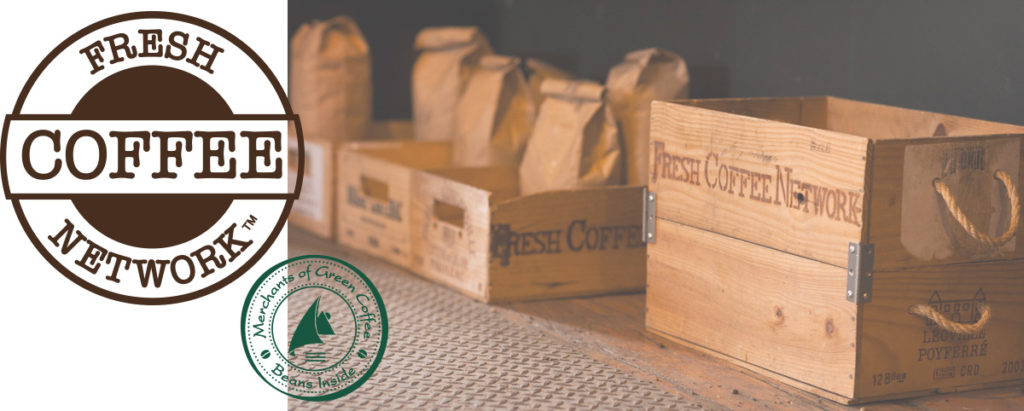 ---
Wholesale & Custom Fresh Roasted Coffee Orders
Freshness of the roast is the second key in delivering the best-tasting coffee experience, and as a green coffee company that caters to home-roasters we are extremely discerning when it comes to coffee freshness. Since 2005, we've been working with local roasters via Fresh Coffee Network to have our certified green coffees skillfully roasted and delivered truly fresh. Once roasted; our coffee is bagged, sealed with a roast date, and shipped out as soon as possible.
We coordinate the roasting of our certified green coffee and offer local delivery throughout the GTA. (We also ship our fresh-roasted coffees Canada-wide, though we do not currently encourage delivery outside of Ontario due to loss of freshness + increased carbon footprint).
The Freshest Coffee (sealed with a roast date!)
Our discovery that coffee naturally stales (oxidizes) 3-7 days after roasting led to the creation of our Fresh Coffee Network. We wanted our premium quality beans to be enjoyed at their absolute best, providing consumers with access to the enhanced flavour and health benefits of truly fresh roasted coffee.
Specialty certified (Fair Trade and Organic) arabica green beans are carefully selected and roasted by independent roasters, and delivered as soon as possible after roasting. Fresh Coffee Network roasters are local and care about both coffee and the craft of roasting.
Our Definition of Freshness
Coffee has a short shelf-life, just like freshly baked bread, and so …
To be considered truly fresh, coffee must be kept in whole bean form and consumed within 5-7 days from the date of roasting. Each and every bag of our roasted coffee is sealed with a roast date so freshness can be guaranteed; Or at the very least, so that we can provide true freshness transparency by informing our customers of exactly when their coffee was roasted.
The Truly Fresh Benefit
Better Flavour: As with fine wine, coffee is a terroir product; which means that its flavours are determined by the part of the world in which the coffee is grown, as well as the characteristics of its environment. When consumed fresh, coffee tastes naturally sweet (due to the caramelization of the sugars in the roasting process) and contains the maximum amount of volatile flavour compounds which contribute to each coffee's delicate, regional flavour profile. Coffee's characteristic sweetness and intense flavour and aroma are not the same nor as intense once staling has occurred since, (as in all natural products) the chemical process of oxidation takes place quickly.
Better for Health: Truly fresh coffee is also better for human health because the fresher the coffee, the more antioxidants remain intact inside each bean. Truly fresh-roasted coffee also tastes so good that many people find they can eliminate the cream and/or sugar from their daily morning routine.
Learn more about coffee freshness …
Enjoy Fresh Coffee in Your Home, Work or Office
Fresh Coffee Network coordinates custom roasted coffee orders and delivers true freshness throughout the Greater Toronto Area (GTA). Contact us to find out how you can make truly fresh coffee a part of your life!